Offset printing is most commonly used for commercial printing. We offer custom Pantone® spot-color printing when only one, two or three colors are needed and when a color has to match perfectly such as a corporate logo. Spot color inks are simply custom mixed, colored inks used in offset printing.
The Pantone Matching System (PMS) consists of over 1,000 colors, including specialty inks such as metallic, pastel and fluorescent. There are different brands of spot color inks. In the United States, the dominant spot color printing system is PANTONE. Other spot color systems include TOYO, DIC, Van Son, Superior and ANPA.
To ensure that a printer uses the exact color that the designer intends, the Pantone Matching System (PMS) is used. Each PMS number references a unique color found in swatch books and charts. By using this type of numbering system, people can convey the exact colors for a printed piece to each other without actually looking at the same samples.
Remember, what you see on the screen is simply a simulation of the printed color. To insure the most accurate color, you should use your Pantone swatch books to find the right ink colors for your project. Once the right colors are chosen, we can help assure that they remain consistent throughout reproduction of all printed materials.
If you need to match a particular color, then spot color printing is something to consider.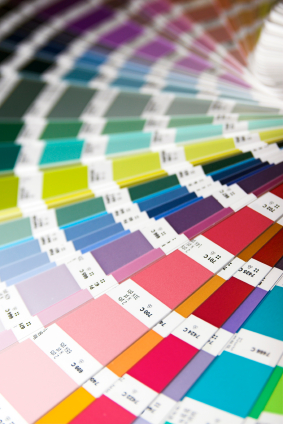 pantone color image