Variable Data Mailings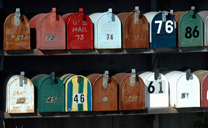 Personalization is key to reaching your prospects. We own the software that allows sophisticated personalization. We can change pictures and editorial – each sheet is unique to the recipient offering incredible response rates.
We can code them with Purls (personal URL's). Each prospect could come
back to a website we set up for you and you can tailor your marketing in this manner.
Variable Data (Personalized Data) will increase the response rates 5 times. Spend a few dollars extra to set up
a mailing and target your mailing better, and mail less, and you WIN, with increased business.