Brochures, Booklets and Sales Sheets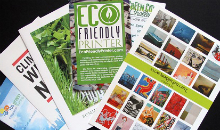 We understand the importance of your printed materials capturing your brand, vision, style and commitment to sustainability, as well as your need to be as economical as possible. We offer brochures, booklets and sell sheets in all of our environmental stocks, text and cover weights. We encourage you to select standard page sizes like 5.5x8.5, 6x9, 8.5x11, or 9x12, as they are more economical. By selecting standard sizes we can cut down on paper waste and will fit our presses well. We can tri-fold, bi-fold, or z-fold your brochure to meet your specific needs.
We specialize in fast turnaround printing projects. Please call Greg Barber at 973-224-1132 for an estimate today.