Welcome to Greg Barber Co.
Our dedication to provide the best green and environmental printing services and products is demonstrated in everything we do. We have an unwavering commitment to maintain a low carbon footprint and recognize that the future is our responsibility as a community. We have been passionate and dedicated to a mindful, eco friendly printing process since 1990. We offer Green Printing for Brochures, Tri Folds, Stationary, Organic t-shirts and clothing, Tote Bags, Banners, Posters, Invitations and more.
Please click Products & Services to see all the Green Printing items we feature, Swatch Book for our paper selections, and Environmental Q & A for over (50) answers to the most common ecofriendly questions we receive.
We believe in Giving Back to others. See our mission website, Neil's Wheels, for promoting mental health and food for hungry families. 
See our Mini Price List , to your right, for our most popular environmental items. Text me for your custom inquiries at 973 224 1132. I See all text messages 24/7. We have many testimonials in Yelp.com and Google.com.  We started  26 years ago at the 20th anniversary of Earth Day, 1990.
And, see above , in our Spotlight, our Monthly Specials. I add new Specials every month.
Greg Barber
Announcements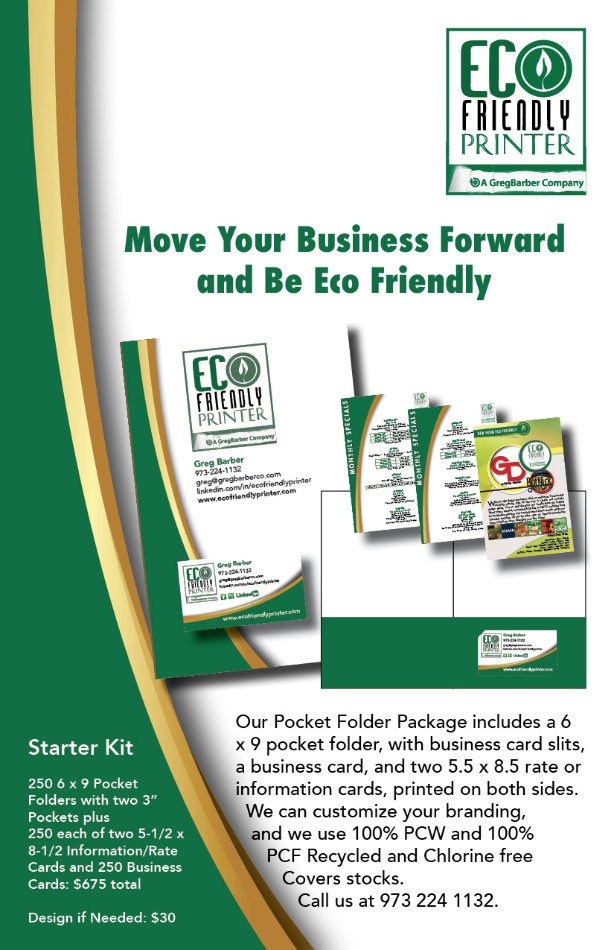 Eco Friendly Articles to Help Your business Grow
Here at Eco Friendly Printers, we received so many questions on printing that it seemed only right to add a spotlight page on our site to help answer some of them as you are looking to expand your business.  We will be adding articles and links to websites that hopefully will answer some of them so you can then make an informed decision.  In these times, it is important to not only get your company out there, but to be conscious of the environment and how purchasing our eco friendly products is a large contribution to that.